Mobile time tracking with timr
Quick to set up and easy to use
Track employee work time, project time and mileage in a single app
Real-time overview about employees
No new hardware needed
Mobile apps for iPhone and Android
Free trial - cancel anytime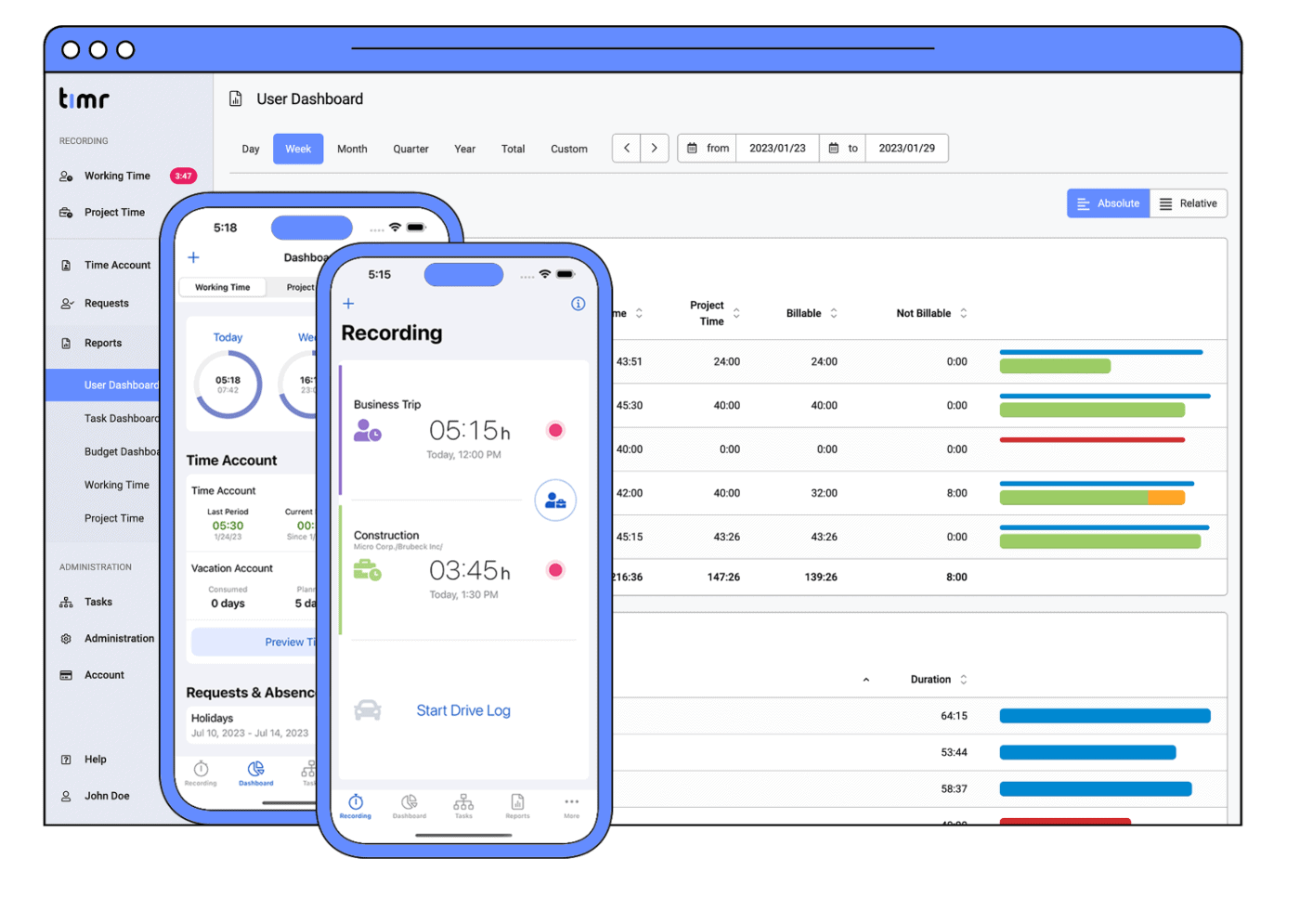 Step up your game with timr
Stay on top of your business from your centralized admin dashboard
Keep track of employees' time with real-time data
Start monitoring real-time data with the timr web app right away. All you need is for your employees to install the timr app on their smartphones and you'll immediately enjoy the following features:
Employees track their work time and project time on the go using the smartphone app
The web app grants admins live insights, showing real-time data about projects and employee work time
Time sheets and mileage logs are managed centrally in the timr web app
No more shuffling papers — you save time and money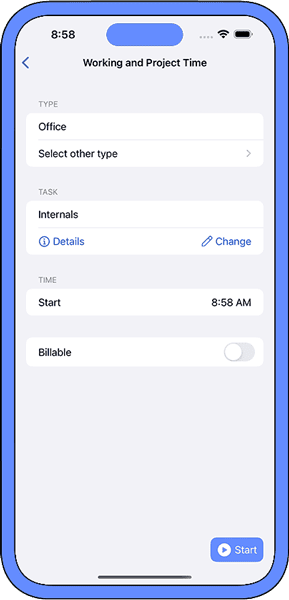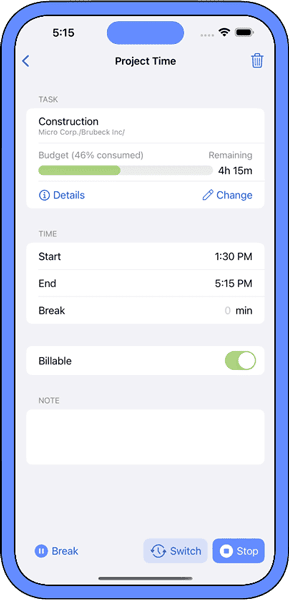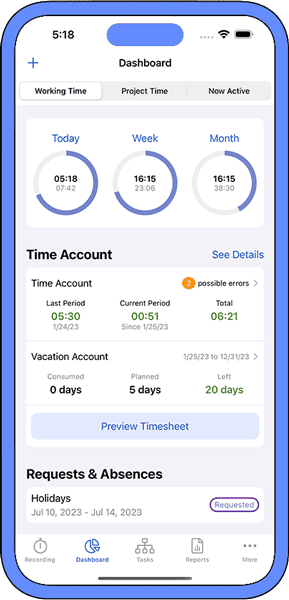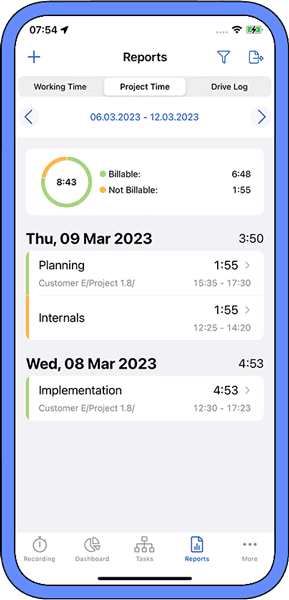 Fast and convenient billing for your projects
Employee time tracking and project time tracking are done in real time and the data is promptly transmitted to the server. The admin dashboard on the web app gives you access to all entries right away.
timr gives you a complete and up-to-date overview of projects and budgets. With this detailed information always at your fingertips, you have everything you need to invoice clients, make urgent project decisions and manage schedules on the fly.
No more waiting for employees to submit their time sheets.
Everything you need to invoice your projects is always readily available
Precise documentation for every project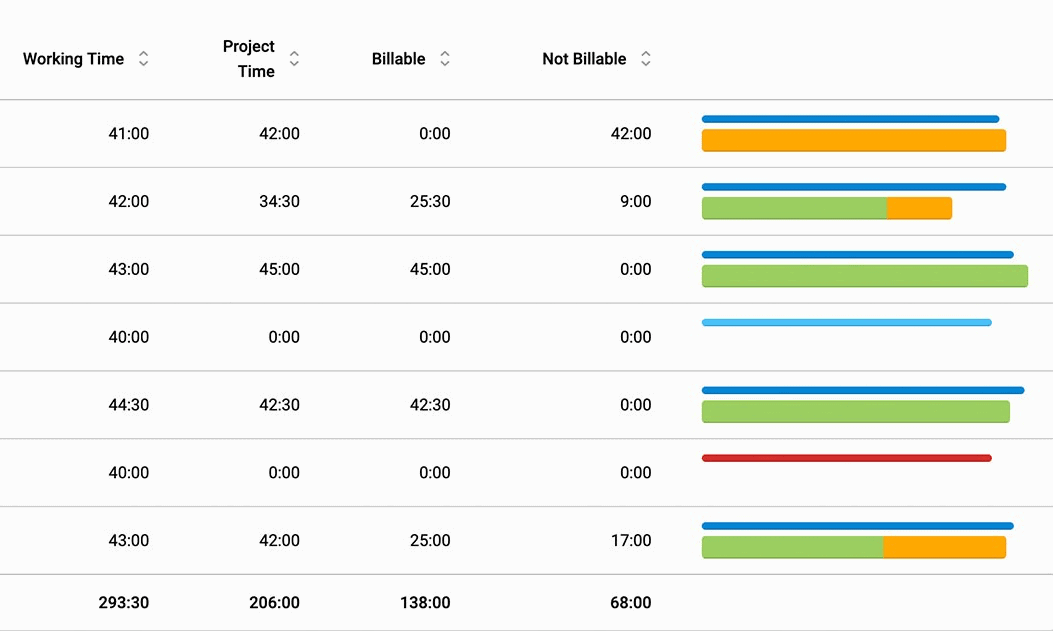 Install the app and start tracking - no special skills or new hardware required
Our mobile time tracking app is available for Android, iPhone, Blackberry and Windows Phones and ready for use right after installation. The admin dashboard is available via the web app on your favourite browser.
You don't need a specialist or specific hardware to use timr. All you have to do is install the app on your smartphones and you're good to go.
high availability,
automatic hourly backups and
easy-to-use interface

Easy time tracking - happy employees
The timr mobile app puts time tracking into your employee's hands
Employee time tracking, project tracking and mileage log combined in one easy-to-use app
No one wants to spend hours logging data for time sheets and projects. timr lets your employees track their work time and mileage conveniently in one app — which, in turn, saves everyone a bit of time.
Ease of use
All important tracking features are immediately available when you start the app:
Fast navigation
No need to search for functions, simply start tracking
Just tap to start and stop your entries
Available always and everywhere
Our time tracking app works even when you're not connected to the internet or your mobile network. Simply track your entries as always and the app will automatically sync your data to the server in the background once you're connected again.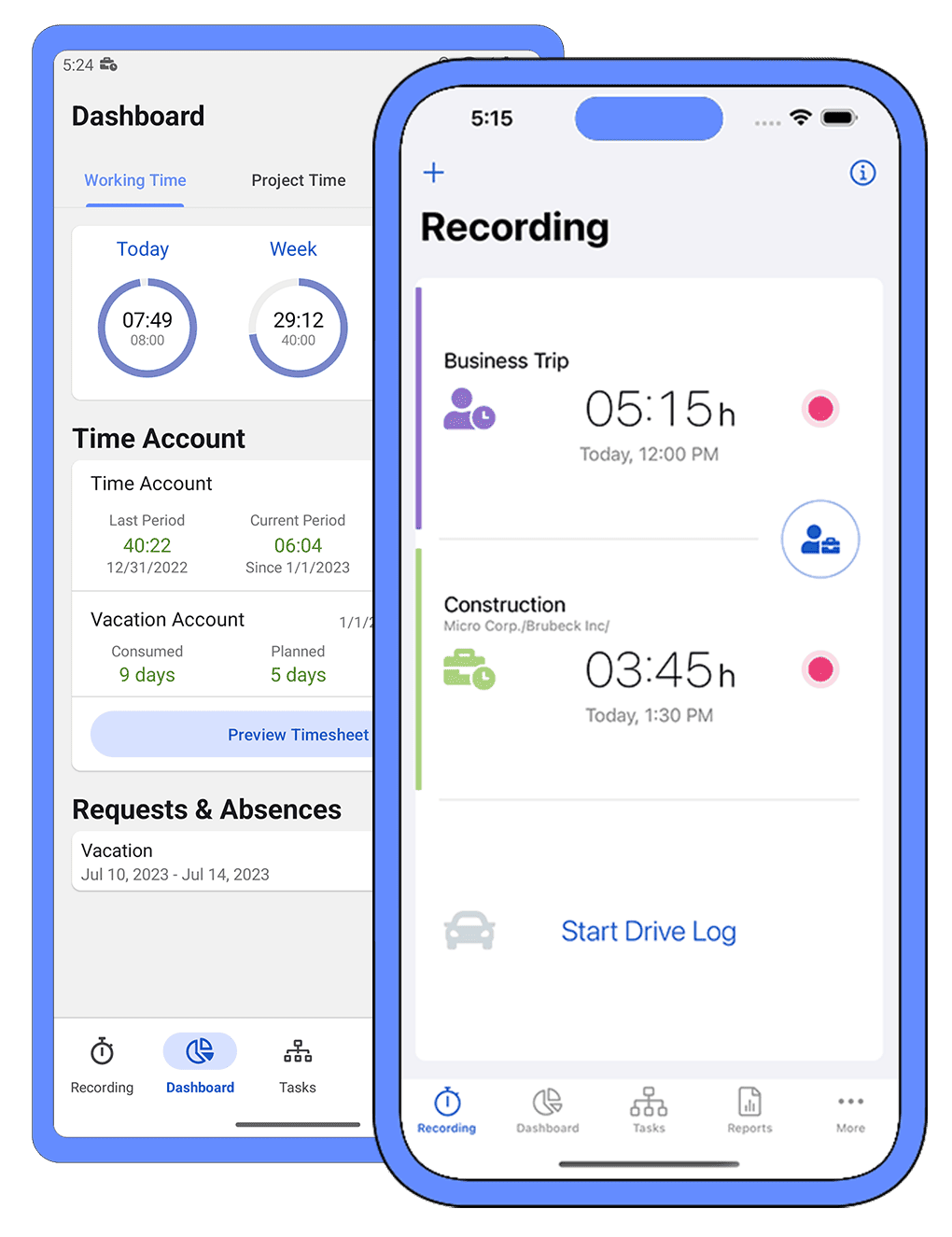 Try the timr mobile time tracking app for free
If you're looking for an accurate time tracking app that you can use whenever and wherever, look no further. timr has everything you need. Just try it out!
Do you have any questions?
We're happy to help you put timr to good use for your business.