Do you have a business where employees are mobile? or and working with customers on site? Then you probably face the challenge of recording the working hours of your employees as simply and accurately as possible.
Time recording via GPS is a perfect solution. In combination with accurate positioning, worked hours can be assigned to the customer's location and therefore a transparent proof of performance can be provided to your customer. Mobile time tracking with GPS can offer you many advantages.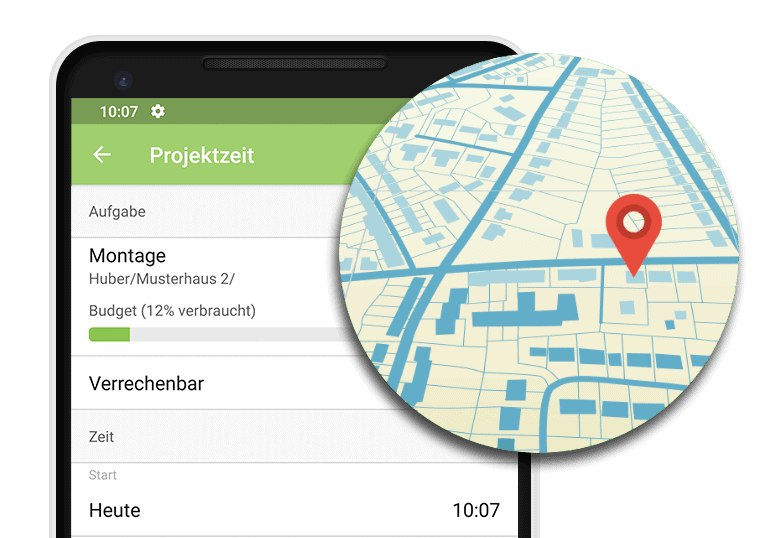 1. Essential features of a time tracking system with GPS
Of course, time recording with GPS only makes sense if your employees can use it to record all the data that´s relevant for your business. For an accurate cost-benefit analysis, you should therefore consider whether the following functions are available.
1.1. Project time recording for invoicing of services
An important function is the documentation of the work you have done for your customer. Being able to record project time in real time and directly on the phone to customers, orders and projects is very important, because it saves you the tedious work to transfer of handwritten timesheets. Recorded times can be evaluated and billed at any time – and precise to the minute.

1.2. Position recording for more transparency and better scheduling
It is a key advantage if you can combine time tracking directly via App with a location tracking. On one hand, this allows you to plan better and assign jobs to employees without having to make long phone calls; on the other hand, it also provides you with proof for the customer. In general, you have more transparency, which excludes fraud and manipulation.
Location tracking for employees on the road
1.3. Attendance and leave recording
In addition to have time tracking for your customers, booking attendance and absences such as vacation, sick leave or time off are important for the company's internal payroll accounting. A good GPS time recording app allows employees to clock in and out easily. As a supervisor, you have all relevant hours digitally available on your PC and can create the employees' timesheets at the push of a button.
1.4. Offline recording for areas with poor reception
Particularly employees who are out visiting customers, often have poor reception or even no reception at all. A good mobile time recording solution offers offline-capable apps for this case. This allows employees to record their time on site even without connection. As soon as there is an internet connection again the recorded times are automatically transferred.

1.5. Automatic reminder of the employees
A time recording system adds making your everyday work easier and relieving you of tasks. For example, employees are automatically reminded if they forget to start or stop their working time.
1.6. Define budgets for your projects
In the best case your online time tracking also supports project controlling. If you can define project budgets and employee hourly rates, you have insight into the current project status at any time. This gives project managers the opportunity to take action during the ongoing project if necessary to make sure that the project is completed positively.
2. Mobile time recording with GPS – what are the advantages?
Many mobile time recording systems today already offer the option of GPS position recording. The position is stored at the beginning and end of the activity. Of course, this offers some advantages – for the employer but also for the employee.
2.1. Optimization of workflows
Especially for companies that employ people in the field, it is a challenge to coordinate work for different projects and customers at different locations in the best possible way.
If employees have a mobile time recording system with GPS, management can optimize processes. As an administrator you have an overview of your employees on the road. This is especially important for handicraft businesses and in customer service. Imagine, for example, that the elevator gets stuck in a building and the responsible installation company has to free the trapped persons as quickly as possible. In such a case, the contractor can immediately send the nearest employee without having to make long phone calls.

The timr time tracking Software is a modern time recording system, with central administration as well as live overview, therefore meets all your needs for a time tracking solution for companies on the road. Test it together with your employees to see how timr can help your company.
2.2. Proof of services provided to the customer
Time recording with GPS location tracking also allows you to perfectly prove every service provided and to present all working hours to the customer as well. When and where which work was done is clearly recorded and can be listed in detail on the invoice for the customer.
2.3. Proof of services performed by employees to the employer
The employee himself can provide irrefutable proof of the work he has done by using GPS position recording. As with a physical time clock, the location at the start and end of work is thus also recorded while on the move. Recording working hours via mobile time recording with GPS also has the advantage that this location information of the employee can also be used for other issues such as deployment planning. Time tracking with GPS thus brings benefits for both the employer and the employee.

2.4. Better Controlling
Precise project documentation supports you in your internal project controlling. Up-to-date data allows daily control. You have insight into the current status of the project at any time and can thus act proactively. If you also work with project budgets and hourly rates, it is particularly easy to identify deviations in the course of the project, take corrective measures, and thus adhere to project goals and costs.
2.5. Fast and efficient final calculation
In order to be able to work cost-efficiently, accurate post-calculation is important for projects. When using mobile time recording on site at the customer, all times are recorded immediately, stored directly in the system and can be accessed immediately after the end of the project. You do not have to digitize the hours of your employees and are able to access all necessary data for the post-calculation at the push of a button.

3. Time recording with GPS – Potential obstacles of digital time recording
At first glance, changes and adaptations during ongoing operations are a challenge. However, many supposed hurdles can be easily overcome. The key to successful implementation is information and communication.
3.1. Acceptance by employees
An important factor in the use of mobile time tracking with GPS are the employees. Successful implementation is only possible if they support such a solution and actually use it in their daily work. As a rule, the use of GPS tracking in particular evokes skepticism and an uneasy feeling among some employees.
The fear of unjustified monitoring and control can lead to the use of time tracking not performing satisfactorily. However, you can counteract this if the decision for a time recording solution is made with the involvement of the employees from the very beginning and you openly communicate what is being recorded and for what purpose.
In this context, it is particularly important to make employees aware of the advantages from which they themselves benefit: Verifiability of their own work to both the employer and the customer.
Furthermore, if you only record the location when clocking in and out of time, this is no different from a physical time clock at the company location. You should also communicate this clearly to your employees and thus avoid unnecessary confusion.
Older employees in particular often have reservations about using time recording apps because they are sometimes less tech-savvy and afraid they won't be able to cope with them. A good app, however, is intuitive and designed to be easy to use and quick to operate, precisely because recording working time via an app is supposed to reduce effort and must be easy to integrate into everyday working life. If employees can also operate it on a familiar device, it is even easier to get used to. The right time recording app will therefore convince your employees all by itself.
3.2. Can I afford that as a company?
The cost of digital time recording is a decisive factor, especially for smaller companies. However, there is a clear answer to the question of whether smaller companies can afford such time recording with GPS: Yes!
Of course, which time recording solution is chosen here plays a role. There are relatively complex systems with extensive functions, which are naturally offered at a higher price. In addition, there are also a variety of simpler solutions that are also affordable for smaller companies.
Basically, it can be said that time tracking apps in particular are usually a cost-effective option. On the one hand, there are no costs for extra devices and hardware, and on the other hand, no extra personnel resources are required for operation. Operation, maintenance and further development are usually taken over by the time recording provider and are included in the price. In addition, a subscription system is now common for digital solutions, which makes it easier to finance the acquisition of a time tracking tool.

3.3. Does this work in my industry?
Depending on the industry in which a company operates, there are of course different requirements for time tracking. For a craftsman's business whose employees are constantly on the road and at the customer's site a fix installed terminal is of course not a good solution. The data that needs to be recorded is also different. However, this is not really a barrier to get a time recording system.